Erborian BB Crème: Review
Monday, February 08, 2016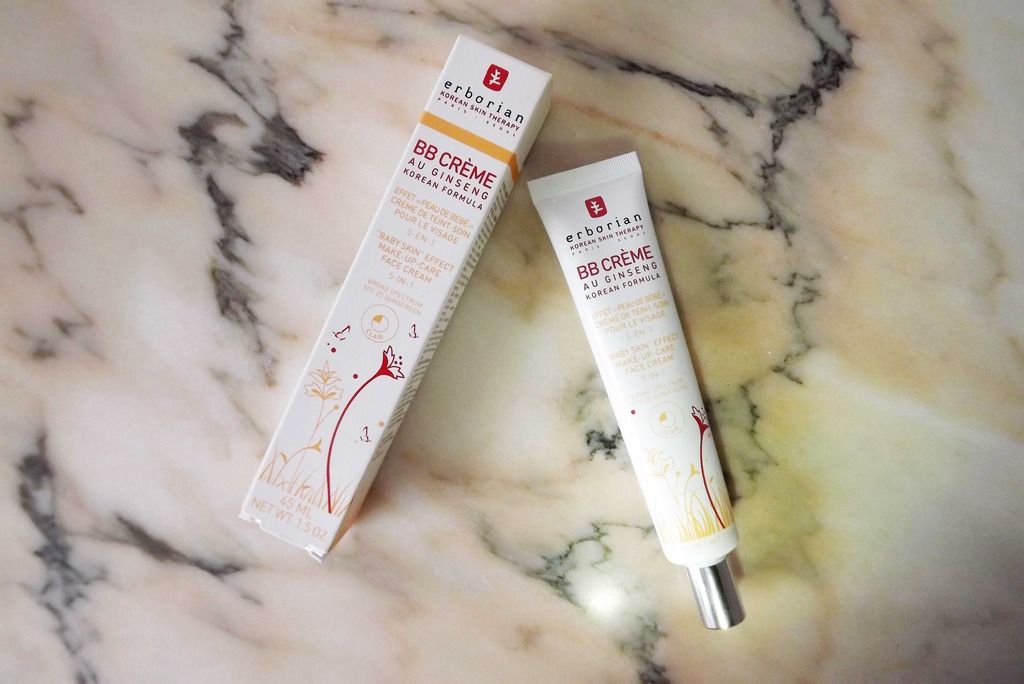 Finding a foundation that does not disturb my sensitive skin and has the right amount of coverage to hide my rosacea is an almost impossible task. All foundations I have tried from luxury to more affordable brands were disappointment after disappointment. So since 2 years ago I have been using the Bourjois Healthy Mix foundation. And as was coming to an end, I decided to go to Sephora to buy another bottle. You cannot understand my despair when I got there and saw they did not have it in my shade (which by the way is 52 Vanilla). But I needed a new foundation regardless so I decided to invest in a new one but my fear was huge. One of Sephora's employees may have noticed my face of despair and offered to help. Normally I do not like any kind of help with cosmetic products; the tendency to sell me the most expensive products in the store is massive. Then we started talking and I explained my skin problems and my visits to dermatologists. And so the employer came to the conclusion that this BB cream was the best option. I was reluctant because I needed something with a medium to full coverage and it seemed to me that a BB cream would not provide me that. I have never been so wrong. As soon as he began to blend it into my skin I was amazed. It has an absolutely beautiful coverage. I was overjoyed and I did not hesitate and bought it without even knowing the price of it.
When I got home, I decided to research a little bit on the brand. Erborian is a Korean brand of cosmetics focused on skin care, so the "foundations" that they produce are infused with skin care ingredients. I thought, great, it was really what I needed.
Now when it comes to the BB Cream itself, as I mentioned has a medium coverage and a satin moisturizing finish. Usually I prefer a luminous finish but I confess that I love this more skin-like finish. In terms of durability, I never used it more than 6/7 hours and remained on my skin during all this time without any finishing powder. I did not notice any oiliness, but it is also worth saying that my skin is dry and I never get oily. The only negative aspect is the shade selection, just two colors and both on the lighter side. It is indeed a Korean brand, so it is understandable that the variety of shades is more on the lighter side. Personally it is a plus to me as I have pale skin and I cannot find many foundations in lighter shades, but people with deeper skin tones have no chance with this BB Cream. The price is also not very inviting given that it is a BB cream, but it is worth the money.
Would I repurchase this? Of course! My skin has adapted well and gives me the coverage I need. What can I ask more?
Pele de bebé.
Encontrar uma base que não perturbe a minha pele e que possua a cobertura que eu necessito para esconder a minha rosácea é uma missão quase impossível. Todas as bases que experimentei, e desde marcas de luxo até marcas acessíveis, nada me enchia as medidas. Ou porque a cobertura não era suficiente ou porque provocava-me alergia, resumindo, um castigo. Por isso desde há 2 anos que uso a mesma, a Bourjois Healthy Mix. E como já estava mesmo a chegar ao fim, resolvi ir à Sephora para comprá-la. Nem sabem o meu desespero quando chego lá e vejo que não a tinham no meu tom (que já agora é o 52). Mas como precisava de uma base nova com urgência decidi apostar numa nova mas o meu medo era grande. Um dos funcionários da Sephora deve ter reparado na minha cara de desespero e ofereceu-se para ajudar. Em regra dispenso ajuda em produtos de cosmética, a tendência para me tentarem vender os produtos mais caros da loja é grande. Lá começamos a conversar e expliquei-lhe os problemas da minha pele e as minhas idas a dermatologistas. E foi assim que o funcionário chegou à conclusão que este BB cream era a melhor opção. Fiquei relutante porque eu precisava de algo com uma cobertura média a alta e não me pareceu que um BB cream me fosse fornecer isso. Nunca estive tão enganada. Mal ele começou a espalhá-lo na minha pele eu fiquei rendida. Tem uma cobertura absolutamente fantástica, cobre por completo a minha rosácea. Fiquei contentíssima e não hesitei e comprei-a, mesmo sem saber o preço dela.
Quando cheguei a casa, resolvi pesquisar um pouco sobre a marca. A Erborian é uma marca é uma marca de cosméticos coreana focada em cuidados de pele, ou seja as "bases" que eles produzem são infundidas com cuidados de pele. Pensei: fantástico, era mesmo isto que eu estava a precisar.
Agora no que toca ao BB Cream, como já mencionei possui uma cobertura média e um acabamento acetinado hidratante. Normalmente prefiro um acabamento luminoso mas confesso que adoro este acabamento mais natural (e nada que não se resolva que o iluminador). Em termos de durabilidade, nunca o usei mais do que 6/7 horas e manteve-se na minha pele durante esse tempo todo e sem pó finalizador. Não notei oleosidade, mas também é de notar que a minha pele é seca e eu nunca fico oleosa. O único aspeto negativo é a seleção de cores, apenas 2 tons e ambos claros. É de notar que é uma marca coreana, por isso é compreensível que a variedade de tons seja para o lado mais claro. Pessoalmente é uma mais-valia pois tenho uma pele branquinha e normalmente não consigo encontrar bases claras o suficiente para mim, mas pessoas com uma pele mais escura não têm hipótese com este BB Cream. O preço também não é muito convidativo tendo em conta que é um BB cream, mas vale bem o dinheiro.
Voltava a comprar? Claro que sim! A minha pele adaptou-se muito bem e dá-me a cobertura que eu desejo.
Love, Inês