What I loved in January
Monday, February 01, 2016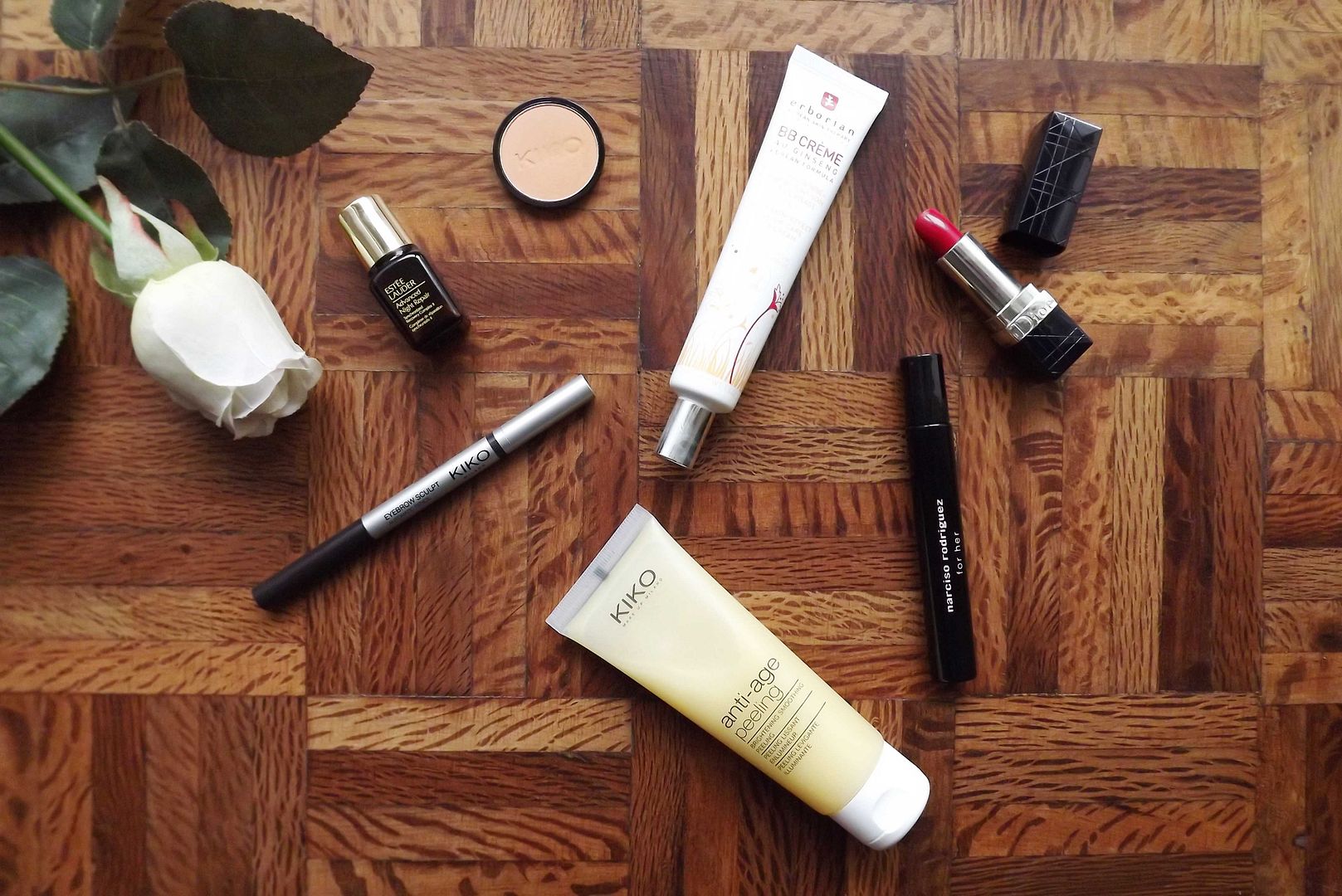 Pure love.
This first month of 2016 has brought me several products that really surprised me. Let me say that Christmas and my birthday were generous with me. There were many more products that I wanted to include here but I did not want an extensive post so I decided to add my absolute favorites.
1. EstéeLauder Advanced Night Repair. I have already written about it here but I had to include it in my favorites this month. Of all skin care products, this was the only one I noticed almost immediate results. A more hydrated and luminous skin, I cannot ask for more.
2. KikoInfinity Eyeshadow in 204. You may think I'm crazy, but this orange eyeshadow is perfect for the crease. Not too different from my skin tone when blended so it's perfect for working with darker colors. The quality of these shadows is phenomenal and they are on sale both in Kiko stores and online, hurry up!
3. KikoEyebrow Sculpt in 06. I bought this product in December and since then I did not let him go. It is not very pigmented, something good for eyebrows products and lasts all day.
4. ErborianBB Cream in clair. I have it for only a week, but from day one it's a favorite. I went to Sephora looking for a new foundation and I confess I was too afraid to try something new until I was approached by the most competent and friendly member of the staff I've ever seen. Later this week I'll tell you the story, because this BB cream deserves a post just for him. Stay tuned!
5. RougeDior by Dior in Illusion. Recently I received this lipstick and it was love at first sight. Everyone knows I love a good red lip and this is so beautiful and moisturizer that is a crime to not be used.
6. NarcisoRodriguez for her. When the colder weather arrives I begin to use this scent more regularly. It is an elegant and sexy scent at the same time just how I like them.
7. KikoAnti-age Peeling. Every two weeks I exfoliate my skin with this product, leaving it with a fantastic radiant glow and silky as baby skin. People with sensitive skin: do not be afraid of this, I did not have any kind of reaction. Just be careful to not sunbathe in the next hours after applying this treatment, so I advise you to do it at night.
Tell me, did you try some new products this month?
Amor puro.
Este primeiro mês do ano trouxe-me diversos produtos que surpreenderam-me pela positiva. Deixem-me dizer que o Natal e o meu aniversário foram generosos comigo. Havia muitos mais produtos que eu queria incluir aqui mas para não deixar a publicação muito extensa resolvi colocar aqueles que eu não prescindo no meu dia-a-dia.
1. EstéeLauder Advanced Night Repair.
Já falei nele aqui mas tinha de o incluir nos meus favoritos. De todos os produtos para cuidar da pele, este foi o que eu notei resultados quase imediatos. Uma pele mais hidratada e luminosa, não posso pedir mais para a minha pele.
2.
Kiko Infinity Eyeshadow em 204
. Podem pensar que eu sou maluca, mas esta sombra cor de laranja é perfeita para o côncavo. Não difere muito do meu tom de pele quando esfumada por isso é perfeita para trabalhar com cores mais escuras. A qualidade destas sombras é fenomenal e estão em promoção tanto em lojas kiko como online, aproveitem!
3.
Kiko Eyebrow Sculpt
. Comprei este produto em Dezembro e desde então que não o larguei. Não é extremamente pigmentado, algo bom em produtos para as sobrancelhas e dura o dia inteiro.
4. ErborianBB Cream in clair.
Só o possuo há uma semana, mas desde o primeiro dia que é um favorito. Andava na Sephora há procura de uma base nova. E confesso que andava meia perdida e com medo de experimentar algo novo até ser atendido pelo funcionário mais simpático e competente que eu já vi. Ainda esta semana eu conto-vos a história, porque este BB cream merece uma publicação só para ele. Estejam atentas (os).
5. RougeDior by Dior em Illusion.
Recebi recentemente este batom e foi amor à primeira vista. Toda a gente sabe que eu adoro um bom batom vermelho e este é tão bonito e hidratante que até é um crime não ser usado.
6.
Narciso Rodriguez for her
. É sagrado que quando o tempo mais frio chega eu começo a usar este perfume com mais regularidade. É um perfume elegante e sexy ao mesmo tempo, tal como eu gosto.
7.
Kiko Anti-age Peeling
. A cada duas semanas esfolio a minha pele com este produto, deixando-a com uma luminosidade fantástica e sedosa como pele de bebé. Gente com pele sensível: não tenham medo deste produto, eu não fiz qualquer tipo de reação. Só têm de ter o cuidado de não apanhar sol nas horas seguintes a fazerem este tratamento, por isso aconselho que o façam de noite.
Contem-me, experimentaram algum produto novo este mês que adoraram?
Love, Inês